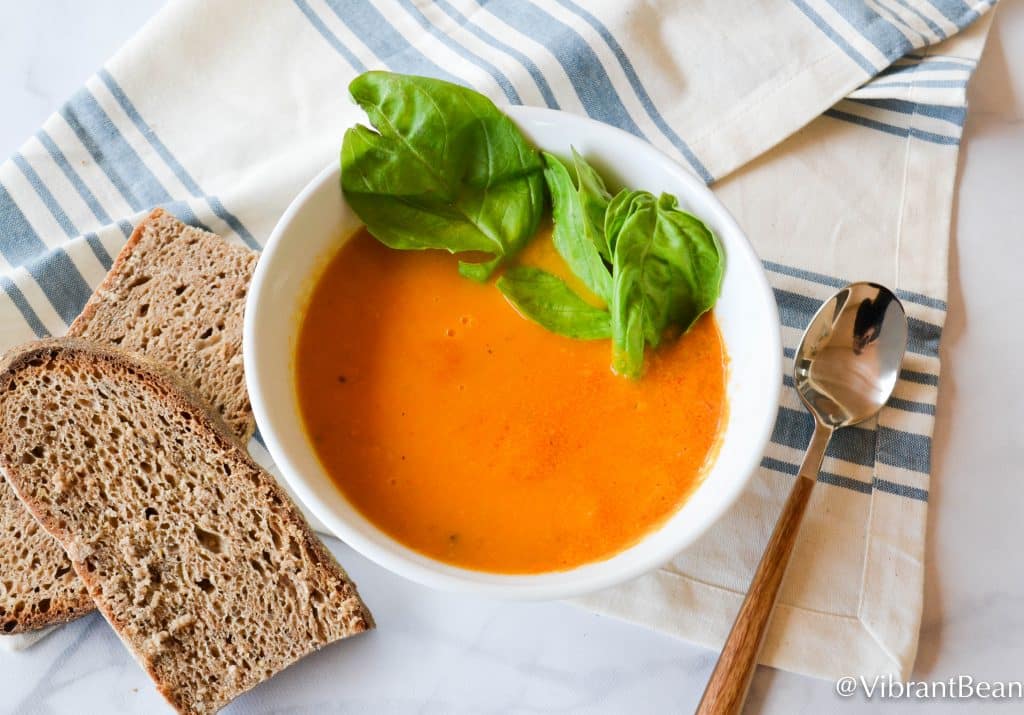 This tomato soup is such comfort food that is also so healthy and easy to make.  I love a soup that it's hearty and can stand on it's own so I don't have to put much thought into what else to it should be served with.  Roasting to tomatoes, onion, and garlic brings out such a delicious flavor while the aroma makes your kitchen smell like heaven.
Ingredients
3 pounds tomatoes, different varieties, including heirloom
2 onion, slicked about 1/4 inch
20 garlic cloves - I love garlic but if it's not your thing, feel free to cut back
1 cup fresh basil
olive oil
salt & pepper
1 qt vegetable broth
1 tbsp ghee or good quality butter
1 14.5oz diced tomatoes - I love using fire roasted
1 can full fat coconut milk
1 tbsp herbs de provance
Instructions
Preheat oven to 425 F
Chop tomatoes into large pieces
place tomatoes, onion slices, and garlic cloves onto foil lined backing pan. Drizzle with a healthy amount of olive oil, salt and pepper. You definitely want one that is not flat, the juices will be flowing.
Roast vegetables for 40-45 minutes, tossing a couple times with a spatula during baking
In a large stock pot, heat broth, ghee, coconut milk, herbs, canned tomatoes, and a healthy dose of salt and pepper.
While liquids heat up, place roasted vegetables in a high powered blender with basil. Will probably take 2-3 loads. Blend well and add to stock pot. Bring to a boil, then allow to simmer for 30 minutes. Sometimes I dive right in, but I find the longer it simmer, the better it tastes. This is a great recipe for meal planning and batch cooking.
http://vibrantbean.com/2017/02/roasted-tomato-soup/
The quality of tomatoes plays a key role, so if you are in an area that does not have access to fresh produce, you may want to wait until later in the year when tomatoes are in season.  Here in southern California, we get tomatoes year round.
*Tomatoes are a fantastic source of antioxidants and have lots of heart healthy benefits.  They are also loaded with Vitamin C and E and manganese.  Manganese is a supplement I sometimes take and is very important for bones and brain and nervous system function.