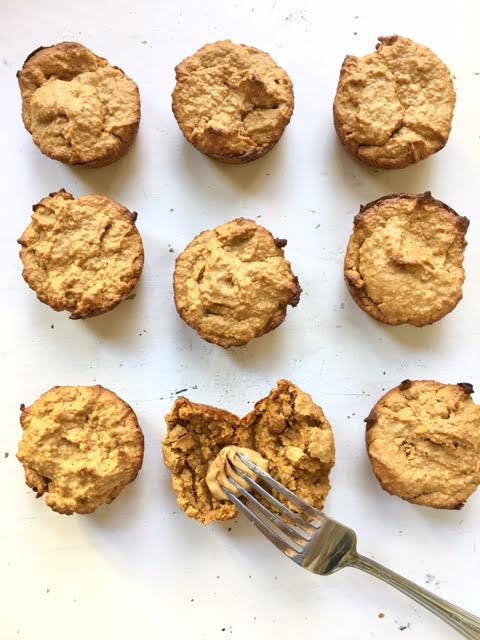 We know skipping breakfast is not a good idea, and for me, it's a guarantee to hangry moments later.  Mornings can be somewhat hectic, so a quick grab meal that is both healthy and yummy is necessary.  I love these sweet potato muffins because the recipe uses simple ingredients and will last for a few days, whether you have a couple for breakfast or just need a quick snack.  Using (gluten free) oat flour packs the muffins with fiber which helps keep you fuller longer.   Sweet potatoes are also filled with fiber plus loads of minerals and vitamins. Whip some of these up for your week!
I love seeing food pics, so if you share these, make sure to #VibrantBean so I can see you enjoy them too.
Ingredients
1 cup sweet potato puree - I peeled, cubed, and steamed 1 medium sweet potato
2 cups gluten free oat flour
1/4 cup maple syrup
1/2 cup cashew butter *
1 cup non dairy milk - I used hemp milk
1 tsp cinnamon
1 tsp nutmeg
1 tsp vanilla extract
1 tsp baking powder
pinch of salt
Instructions
Heat oven to 375. Place all ingredients in a food processor. Blend until combined. Spoon into greased muffin tin. Bake for 25-30 minutes, depending on oven. You want the tops lightly brown. These are great topped with a bit of honey, more nut butter, or a little butter. Also great as is!
http://vibrantbean.com/2016/11/sweet-potato-muffins/