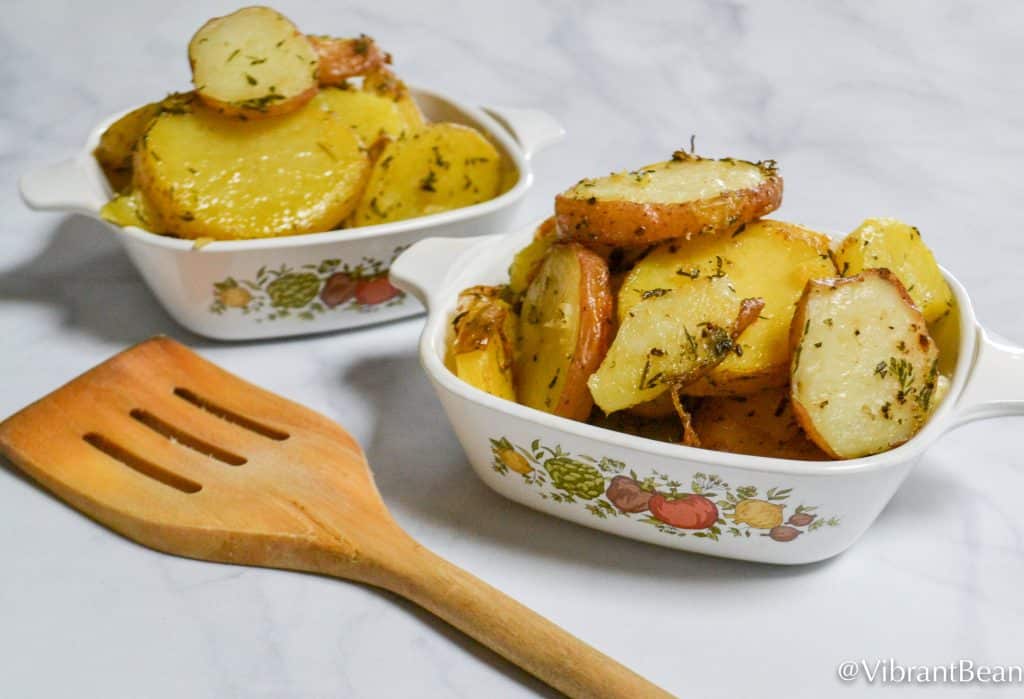 Thanksgiving is juuuuuust around the corner.  I'm sure most people have their menus done, have had them planned for weeks.  But just in case you aren't all on top of everything, I've got a simple side for you.  These potatoes are so delicious, so tasty, and packed with a ton a flavor thanks to the herbs and butter.  I make these pretty regularly so I have something to toss next to a main, chop up for a veggie bowl, or just pick at when I need something quick.  If you don't make these for Thanksgiving, pin them and definitely make them later
.  
Ingredients
8 medium potatoes - I use a variety of red, purple, and yellow
4 tbsp organic, grass fed butter
2 tbsp finely chopped rosemary
2 tbsp finely chopped thyme
olive oil
salt & pepper
Instructions
Heat oven to 425F. Slice potatoes into 1 inch slices. Boil potato slices 15 minutes About 5 minutes before the potatoes are done, melt butter in oven, allowing it to bubble. Remove butter and mix in herbs and a couple dashes of salt and pepper. Drain potatoes. Toss potatoes in colander first with drizzle of olive oil then with herb butter. They may break apart, i like this. Those parts get nice and crispy. Spread on a large baking sheet in one layer. Bake for 20 minutes. Turn heat up to 450 and bake for another 5-10 minutes.
Can be made ahead of time and reheated at a low temp for several minutes.
http://vibrantbean.com/2016/11/buttery-herb-potatoes/
I'd love to see your creations.  Hashtag #VibrantBean or tag @VibrantBean so share.  Thanks!