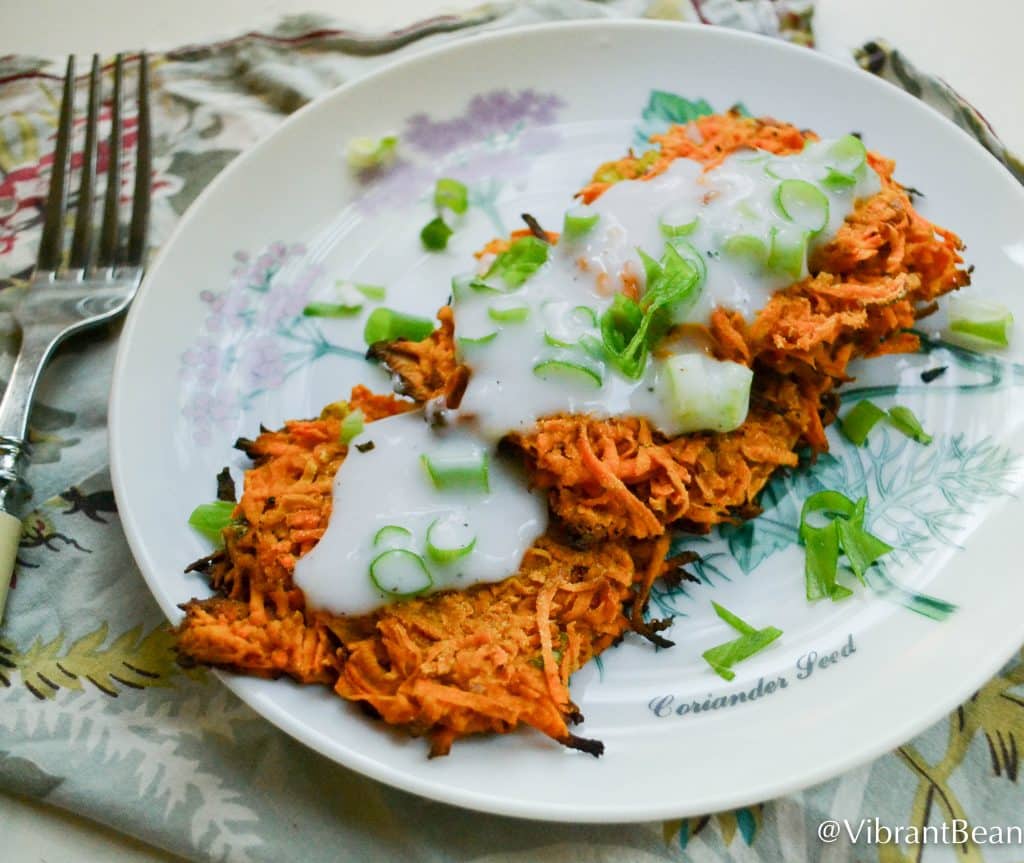 I love recipes that are quick, simple, and healthy.  Even more, I love when I can take a recipe, double it, and use it for any meal.  Sweet potato fritters are one of those recipes.  Plus, baking rather than frying them keeps the fritters longer without oil making them soggy.  I topped these with a coconut yogurt dip, but an egg, maybe some avocado, or a spicy aioli would be great too.  These are very versatile and make a great breakfast, lunch, dinner, or snack.  Delicious with different toppings or kept simple sprinkled with some fresh herbs.
Baked Sweet Potato Fritters
Ingredients
2 sweet poatoes, peeled then grated
1 tsp salt plus more for top
1 egg or 1 flax egg
1/2 tsp pepper
large dash of cayenne pepper
2 tbsp green onion plus more for top
14 tsp nutmeg
Instructions
Preheat oven to 425. Grate the sweet potato. I used a food processor to make it quick and easy. Whisk the egg or prepare the flax egg and add it to the bowl with the sweet potato. mix and add remaining ingredients. Spoon out onto greased baking sheet. Press down on fritters with a spatula to get more of a fritter shape. Sprinkle tops with a little more salt. Bake for 15 - 20 minutes. You want the top crispy. Remove and allow to slightly cool. Top with more green onion, dipping sauce, avocado, an egg...lots of options.
Enjoy!
http://vibrantbean.com/2016/10/baked-sweet-potato-fritters/