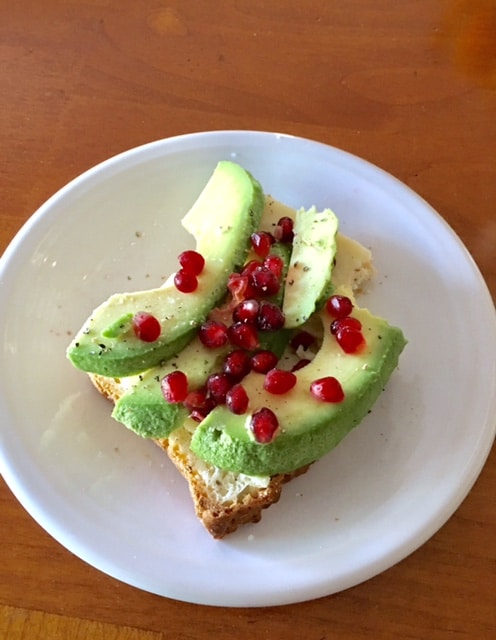 There are a million posts about avocado toast.  It's on every brunch menu.  Basic as a pumpkin spice latte in fall.  But, there's reason.  It's flipping delicious and perfect.  Like, always hits the spot, ridiculously easy to make, has a bunch of variations, perfect.  I'm all about the simple recipes here.
The other day I was looking for a snack when I saw some pomegranates.  They looked so bright and yummy, perfect to balance the creamy avocado.  I added tiny slivers of white cheddar, because, well it's cheese.
Avocado Toast with Pomegranate
Ingredients
Toast - I used a delicious GF seeded bread from the farmers market
Small handful of pomegranate seeds
1/2 avocado - slices
Thinly sliced white cheddar slices - optional
Dash a salt & pepper
Instructions
Toast the bread. Lay cheddar over toast. Lay avocado slices over cheddar. Top with pomegranates and a small dash of salt and pepper.
http://vibrantbean.com/2016/10/avocado-toast-with-pomegranate/