One of my favorite ways to relax is to bake.  I also find a fun challenge to take recipes I find in books, magazine, or online and try to veganize them and/or make them just a bit more healthy…errrr less guilty. Oddly enough, I also eat less sweets when I am the one who did the baking.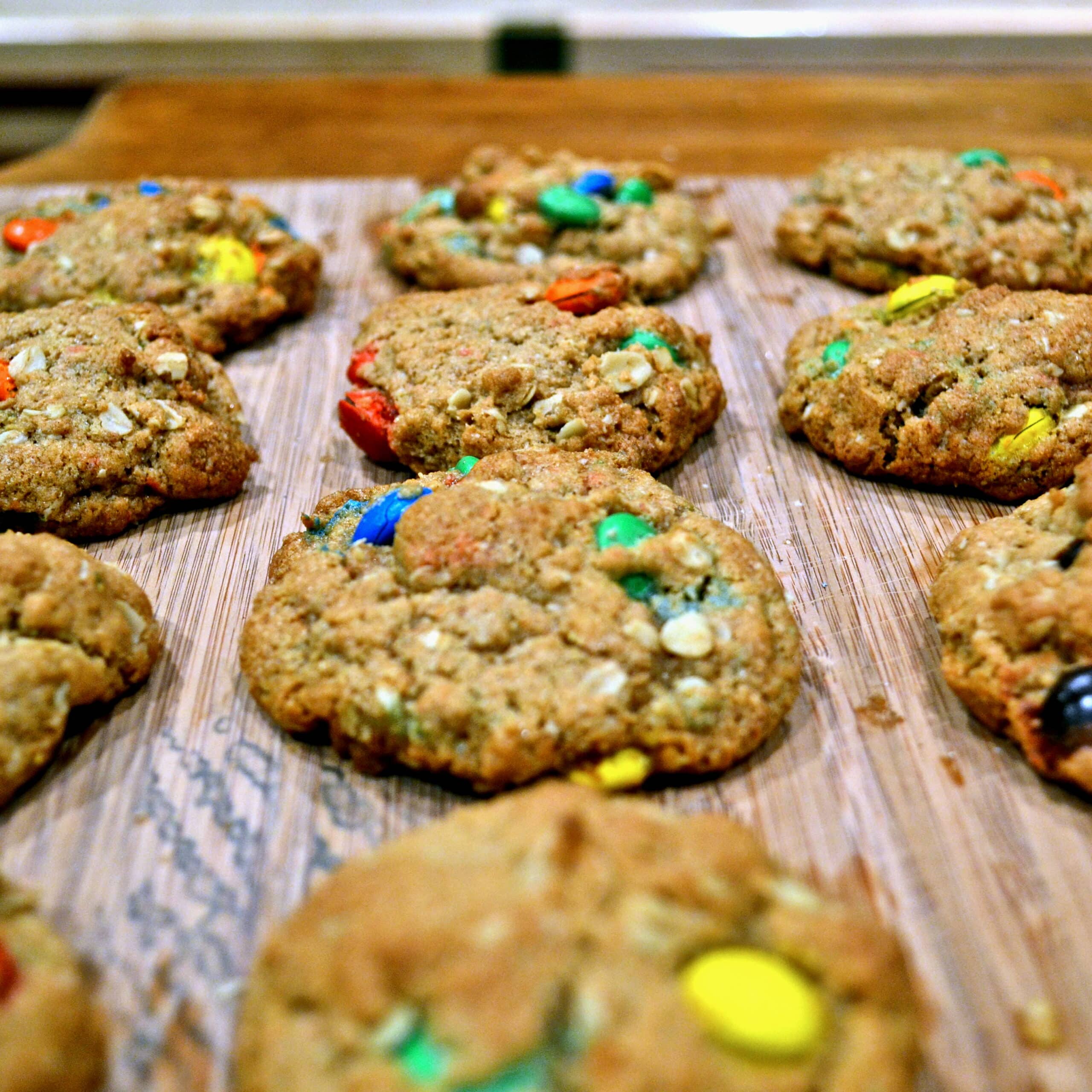 The other night I had a craving for some good 'ol fashion chocolate chip cookies.  The broski/roomie went to the store with one ONE item to get me, some non dairy chocolate chips…not really hard with a Mother's Market 5 min away.  What did I end up with…2 bags of M&M's…ehhhh.  That wasn't enough for me to drag myself out in that cold, rainy weather to get what I really needed, so out with the Vegan cookies and in with the choc-oooo-late, no biggie 🙂
Brown butter-Oat-Chocolate Cookies
1/2 cup butter or vegan buttery spread, I use Earth Balance
1 1/4 cup whole wheat flour
3/4 cups rolled oats
1/4 teaspoon salt
1/2 teaspoon baking powder
1 1/2 teaspoons cinnamon
1/2 cup raw sugar
1/2 cup loosely packed raw brown sugar
1 "egg" – to make it vegan I use 1/4 cup of Sour supreme (vegan sour cream) + 1/4 tsp baking soda
2 teaspoons vanilla extract
1 cup chocolate chips
+ a little soy milk/almond milk/non dairy milk of choice if dough is crumbly —> mine was
Preheat oven to 375 degrees F.
Heat a small saucepan melt "butter", whisking for about 3 minutes.  PLace in small glass bowl and set aside to cool.
In a medium bowl, combine flour, salt, baking powder, oats and cinnamon and mix.
In a large bowl, add cooled butter.  Whisk in sugars.  Mix in "egg" and vanilla until well blended.   Stir in dry ingredients, added small amounts at a time until combined.  If crumbly, add your non dairy milk, starting with about a tablespoon until combined.  Add in your chocolate chips, or in my case M&M's.
Refrigerate for 1/2 hour if possible…
Scoop a spoon full of dough and place about an inch apart.  Bake for 10-11 minutes or until edges are lightly browning.  Remove, cool, and ENJOY!!!!